The Outdoor Industry in 2023: Opportunities, Challenges, and How After Can Help
It is no secret that the Outdoor Industry has experienced significant growth since the start of COVID-19. With indoor entertainment options shut down and consumers cooped up in their homes, many turned to outdoor activities for a much-needed distraction. 
The Growth in Outdoor Participation
Below is a chart that illustrates the growth in Outdoor participation over the past several years.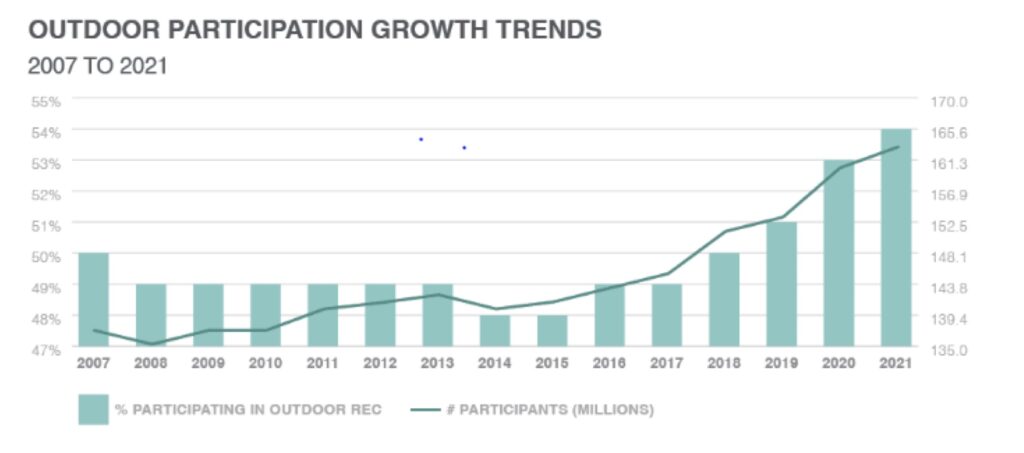 And here are five interesting statistics from Outdoor Association's 2022 Participation Survey:
In 2021, new and returning outdoor recreation participants grew 26% to 164.2M, the highest number ever recorded.
Americans ages 55 and over drove the growth in participation – their age group was up 19%.
While total participants were up, the "core enthusiasts" segment declined. "Core enthusiasts" are defined as those who participated 51 times or more in outdoor recreation activities in the previous 12 months.
Men and women differ in their outdoor activities of choice – hiking and running are big for women, and fishing and biking for men.
The average household income of Outdoor participants is high – $70k with 33% of the base over $100,000.
What do these statistics mean for Outdoor Manufacturers and Retailers?  They highlight that the category is growing, that men and women have different activities of choice, and that new Outdoor customers will continue to need the right equipment and apparel.  Brands must gather data on their customers to better understand them, segment them by gender, age, income, and purchase behavior, and market to them more effectively.  
What are the top three Outdoor growth sub-categories in 2023? 
Before discussing the growth sub-categories, we will explain why After, Inc. is so knowledgeable about the space.  After, Inc. has been working with the top Outdoor Manufacturers and Retailers for decades – brands like Polaris, Bass Pro Shops, Generac, Honda, and Pure Fishing to name a few – so, we have access to the inside scoop on key trends.  We also attend Outdoor trade shows like Outdoor Retailer, Overland Expo, and the Big Gear Show, where we meet with clients and prospects and discuss the opportunities and challenges facing the industry.
Three growth opportunities keep coming up in our discussions.  First is Overlanding – an opportunity on everyone's radar right now.  Overlanding is described by Motortrend.com as "self-reliant travel to remote destinations where the journey is the principal goal. Typically, but not exclusively, it is accomplished with mechanized off-road-capable transport (from bicycles to trucks) where the principal form of lodging is camping, often lasting for extended lengths of time (months to years) and spanning international boundaries."
Not surprisingly, our clients tell us the Overland category is here to stay and bringing with it a whole new segment of buyers. These consumers – typically in their 30's and 40's – have money to spend.  They may never have thought to outfit their vehicles for off-road travel but are now buying solutions to live and stay connected while off the grid. They need gear for kayaking, hiking, biking, fishing, cooking, and sleeping, and want refrigerators, solar panels, generators, and communications technologies built into their vehicles.
Second is Outdoor Equipment and Apparel in five key sub-categories – running, biking, fishing, hiking, and bird watching (yes, you heard me).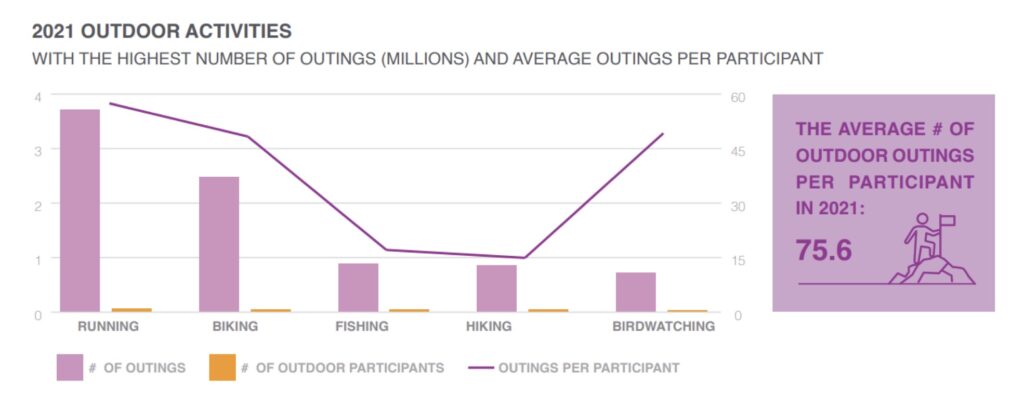 Source: Outdoor Association's 2022 Participation Survey
Given the increase in outdoor participation across age groups, these categories have seen spikes in demand.  However, ongoing supply chain issues have forced retailers to invest heavily in inventory.  That works well when the economy is booming, but when the economy starts to slow down, retailers must discount their inventory to make room for the next season.  While these sub-categories continue to drive sales, supply chain uncertainties may hinder margins even with the increased demand.
Third – and somewhat of an interesting phenomenon – is the growing popularity of indoor climbing gyms.  These gyms started popping up everywhere in 2022 and are bringing new people into the sport. These new customers, mostly Gen Z'ers who love the thrill of reaching the top – whether it's the top of a wall or a mountain – are now "graduating" to outdoor climbing adventures and buying not only harnesses and climbing shoes, but also belay devices, ropes, and pads.  They are also investing in off-road vehicles such as  four-wheel drive trucks and SUVs that can handle the Great Outdoors.
What are the challenges facing the industry in 2023? 
Attending Outdoor Retailer's Winter Show in January gave us the opportunity to meet with a lot of outdoor brands.  No matter the size of the brand, three key pain points stood out. Pain points that – coincidentally – After is solving for our Outdoor clients today.
Number one is top line revenue. Top line revenue is a priority in the current economic environment. As discussed above, in a down economy, when margins get tight, you need to sell more to make up for it.
Second is the need to better understand your end customers and build lasting relationships with them. Some niche brands do a great job with this, using social media to reach out to customers, get their feedback, share their sustainability initiatives, and provide special discounts and VIP access to new product launches. However, if a brand sells mostly through distribution partners or online marketplaces like Amazon, they lose that one-to-one contact with their end customers.
Third is the ability to drive a positive customer experience with EVERY interaction. How do manufacturers deliver a positive customer experience when their customers don't interact with them at the point-of-sale?  How do they acquire their customers' personal information to send them relevant offers?  What if a return or claim is the only experience the customer has with your brand?  What does that experience look like?  Is it personalized, simple, transparent, and convenient?   
How can After's Warranty Services and QuickSuite technology help?
As mentioned earlier, After's experience in the Outdoor space goes back over a decade.  Polaris – a long-time customer – came to us with a need to drive higher Extended Warranty sales in 2010.  Over the course of the next nine years, we expanded our relationship beyond Warranty Marketing Services to managing the company's Warranty Risk.  Ultimately, we helped Polaris bring its entire Warranty Program in-house, driving millions in warranty revenue and profits annually.  (Check out the case study here).
If your goal is to drive lasting customer relationships, our QuickReg® platform can help.  Through the use of our QR code technology on your product, the box, or in-box materials, your customers can easily register and you will gain valuable first-party data.  Then through QuickInsight®, we can append demographic and behavioral data to your customer records, allowing you to segment your database, and deliver specific and relevant offers to your customers.
Personal communication drives trust.  Trust drives relationships.  And relationships drive customer lifetime value, which is now THE metric for measuring success.
We can also help you deliver positive returns and claims experiences, while improving your operational efficiency and lowering your costs.  QuickClaim® was developed from years of experience building customized claims systems for the world's largest manufacturers and retailers.  Now brands of all sizes can provide return and claim experiences that increase customer satisfaction and loyalty.
If you are an Outdoor brand looking to drive revenue, lower costs, and increase customer loyalty, we are the partner for you.
Reach out to us today at info@afterinc.com.