Product Registration: Key Technologies Driving the Industry, Part 1: The Path to Today
Introduction
Product registration has changed dramatically over the past two decades and is poised to evolve even further. The primary driver of change has been the introduction of innovative technologies that enhance customer engagement and expectations around how manufacturers should treat the registration event. In Part 1 of this 2-part series, we will discuss three key technology advances – mobile broadband, cloud-based computing and artificial intelligence – and how each one has contributed to the new paradigm of an automated, personalized, mobile-first product registration. In Part 2 of this series, we will share our perspective on "The Future of Product Registration – What's Next?" We will highlight technologies that are becoming mainstream today like image recognition, voice recognition and biometrics and share examples of how businesses are utilizing those technologies today in retail, entertainment, influencer marketing and law enforcement.
Product registration began as a manual and cumbersome process.
Twenty years ago, most manufacturers included registration cards in product boxes, alongside warranty information and instructions for use. Nineteen times out of twenty, registration cards were thrown away by customers, never filled out or returned. Even with the rise of the Internet and online registration approaches, completion rates remained low.
As recently as five years ago, a University of Michigan Transportation Research Institute study reported that 45% of consumers "seldom" or "never" registered their products, with that number rising to 62% for consumers under the age of 30. The two reasons that motivated customers to register were a) to activate a warranty or b) to receive product updates and recall notifications.
Figure 1 – Reported Registration Rates by Age Group

Three Technologies that Changed the Face of Product Registration
1. Mobile Broadband
It's hard to remember life without the Apple iPhone, which launched in 2007. The iPhone was a first-of-its kind touchscreen device that combined a phone, audio playback, camera, and a computer into one. It allowed consumers to do "everything from anywhere" on their mobile device, such as: making and receiving calls and texts, taking pictures, downloading music, searching the Internet, playing games, and even streaming movies. The power, convenience, and productivity that it delivered made the iPhone – or similar smartphone device – ALMOST as essential to the American consumer as air, food, and water. Mobile devices became the primary driver of Internet traffic, forcing wireless carriers to invest heavily in technology and bandwidth to increase connection speed and drive usage.
Figure 2 – Growth of Broadband in U.S.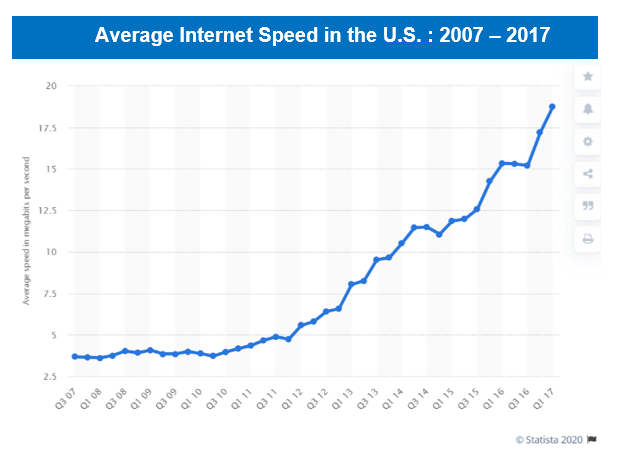 Cloud Computing
Between March 2006 and November 2011, Amazon (AWS), Microsoft (Azure) and Google (Computing Engine) launched their cloud computing services. Cloud computing allows organizations of all sizes to scale and manage their networking and storage needs on a pay-as-you-go basis. There are three main categories of cloud computing services: Software as a Service (SaaS) – e.g. Microsoft 365, Platform as a Service (PaaS) – e.g. Salesforce.com, and Infrastructure as a Service (IaaS) – e.g. AWS, Digital Ocean, Microsoft Azure and Google Compute Engine.
Cloud technologies not only drive operational efficiency and minimize infrastructure expense, but they also help businesses become more agile and customer-focused:
Improving customer communication – connecting with customers 24/7 from any mobile device, laptop or desktop computer with a secure Internet connection;
Supporting a virtual workforce (something we are very thankful for in this current pandemic); and
Delivering a cohesive customer experience – providing access to a single unified database of customer information across all touchpoints and stages of the buyer's journey.
Figure 3 – Cloud-Enabled Technology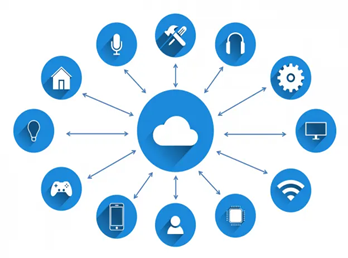 3. Artificial Intelligence (AI)
Artificial intelligence has transformed the way that businesses communicate with their prospects and customers. Amazon defines Artificial Intelligence as "the field of computer science dedicated to solving cognitive problems commonly associated with human intelligence, such as learning, problem solving, and pattern recognition." In the world of marketing and customer support, AI allows businesses to deliver personalized one-on-one experiences to customers at scale. While marketing automation can mechanize manual tasks and minimize errors, it is AI's predictive analytics and personalization engines that make each customer interaction seem human. Examples of AI technology are: using chatbots for lead generation on websites, asking Alexa or Siri for directions to the nearest gas station, segmenting customers by key attributes for more targeted marketing campaigns, and developing algorithms to suggest ads to consumers in real-time based on prior search history (e.g. Google and Amazon).
How have these technologies optimized the product registration process?
Let's use QuickReg™ as an example. After, Inc. launched QuickReg™ – our patent pending next-generation, cloud-based registration solution – in March 2019. Given our deep knowledge of the warranty lifecycle and over 15 years of experience working with warranty customers, we learned the primary issues with current registration approaches:
They are not simple, easy or convenient.
They are not visible at the point of unboxing when the customer is most excited about and engaged with the product.
They do not offer enough value to consumers in exchange for their personal information.
QuickReg™ is a cloud-based, AI-driven mobile registration solution that was designed to solve these pain points for consumers. A manufacturer attaches a QuickReg™ sticker to each box and/or product with the model number – and places it in a highly visible location. The customer only has to perform one step – text, email, scan the QR code, or call with the model number – to initiate the registration process.
Utilizing the cloud, the QuickReg™ database looks up the model number and appends customer and product data to a personalized mobile registration page. In less than one minute, a push notification is delivered back to the customer via text or email (whichever channel is preferred), with a link to view the prepopulated data. After a quick review, the customer hits "submit" and the registration process is complete.
The QuickReg™ app provides immediate information back to the users including digital product manuals, safety notices, warranty terms and other critical product information. It also gives them full access to their personal information where they can opt out of marketing offers and even select specific information to remove from the QuickReg™ database.
 Figure 4 – Enhanced Customer Experience


Conclusion
Product registration has evolved over the past two decades to an automated, cloud-based, AI-driven, mobile experience. The three technologies described in this blog – mobile broadband, cloud computing and AI – have helped to improve the overall experience, driving registration rates up and allowing manufacturers to build stronger relationships with their customers.
In Part 2 of this blog series, we will look at "Product Registration Technologies: What's Next?" and discuss the newest technologies on the horizon. These technologies may soon become incorporated into registration solutions, improving the experience even further – driving higher registration rates and stronger ROI for manufacturers.
After, Inc. is a pioneer in the warranty business – providing product registration, marketing, analytics, and program administration to warranty organizations across a wide range of industries. Founded in 2005, After has over 15 years of experience delivering innovative warranty offerings to manufacturing clients. After, Inc. partners with some of the world's top brands to help transform their warranty businesses, driving customer satisfaction post-purchase, higher product reliability, deeper brand equity and additional revenue/profit opportunities. Headquartered in Norwalk, Connecticut, After, Inc. is part of the EPIC Insurance Group, an innovative retail property and casualty and employee benefits insurance brokerage and consulting firm with 2,800 employees across the United States.