Three Keys to a Positive Claim Experience for your Customers
It seems counter intuitive. Your customer has a problem with your product, and it needs to be fixed – how is this going to generate a net positive experience?  There are several steps manufacturers can take to ensure the claim experience is one that instills confidence in the product and loyalty to the brand.
This is true for both limited (manufacturer's) warranty and extended warranty processes.  At After, we have found that a positive claims experience can translate to higher lifetime value and higher propensity to purchase additional products and services (learn more about our extended warranty and claims administration solutions).
The study below by Accenture illustrates that customers who have a positive claims experience are 2X more loyal to the company.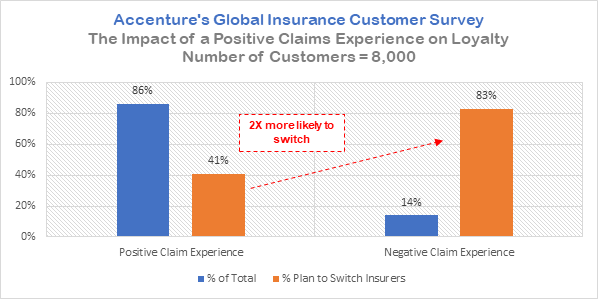 Source: Accenture
So why do many manufacturers view their warranty programs (both limited and extended) as a cost center rather than an opportunity to enhance their relationships with their customers?
Here are three basic principles for ensuring your customers have a positive experience during the claims process – a critical point in their product lifecycle.  For purposes of this discussion, we will limit the product set to household items like appliances, electronics, and lawn and garden products.
1.    Start with troubleshooting.
Both manufacturers and customers prefer to do basic troubleshooting before filing a claim, as the process can be costly, inconvenient, and time-consuming on both sides.  Whether online or by phone – it is important is to walk the customer through a few troubleshooting questions before scheduling a repair appointment or having them print a label, if the product can accommodate a mail-in repair.
Most customers will go online first to find product information when they have an issue.  They may look at your Support page and conduct a search.  Incorporating easy website navigation for customers to find FAQs and owner's manuals can help them solve their own problems – without the need for a repair – a win/win for both manufacturers and customers.
Some customers may prefer to troubleshoot via phone call.  If you force customers to go through multiple steps before reaching an expert or keep them waiting for a long time (more than 2-3 minutes), you will send a negative message that you don't care.  Performing basic or complex troubleshooting can have a positive ROI as long as the success rate justifies the time spent.  Customers expect a certain amount of troubleshooting and are pleased when the product can be fixed without a service call, or without the need to be without it for even a short amount of time.
2. Provide a multi-channel claims experience.
In today's world, your customers are crossing five different generations.  When it comes to designing an optimal claims experience, manufacturers and insurers must consider each generation's communication preferences when designing the claims process. For example, as the below chart from Quadient illustrates, customers from the Silent Generation and Baby Boomers may prefer communicating via phone with an agent, Generation X and Millennials to file a claim online, and Generation Z either online, via text or through an app.  Important to consider, the same customer may prefer to initiate the claim on the phone and get a status update by text or email.  It is important to meet your customers where they are – and offer a multi-channel claims experience – or they will find a competitor who can.
Five Generations and Their Communication Preferences & Values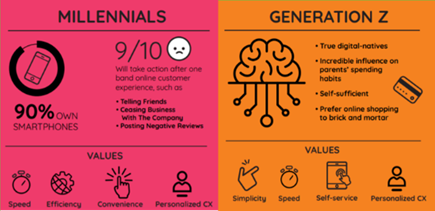 Source: Quadient
3.    Focus on speed and transparency.
Whether the service event is in-home, carry-in, or mail-in, this is where the rubber meets the road.  Fixing the product right the first time is what every manufacturer strives for, but it is not as simple or easy as it might sound.  Long turnaround times are a major source of customer dissatisfaction although some extended warranties offer benefits to reduce the pain (such as laundry reimbursement if your washing machine is out for more than a few days).
While speed is important, equally as important to customers is transparency.  Customers want real-time updates of where their claim is in the process.  While it may take a claim longer than expected to complete, if you communicate throughout the process – either via claim portal, email or text – your customer will be much more satisfied with the claim as a whole.  Plus, it will avoid unnecessary calls into your call center and minimize total claim costs.
The chart below from the same Accenture study mentioned above, highlights the top five customer expectations that contribute most to customer satisfaction and loyalty.  Speed and transparency are #1 followed closely by the ability to receive real-time status updates.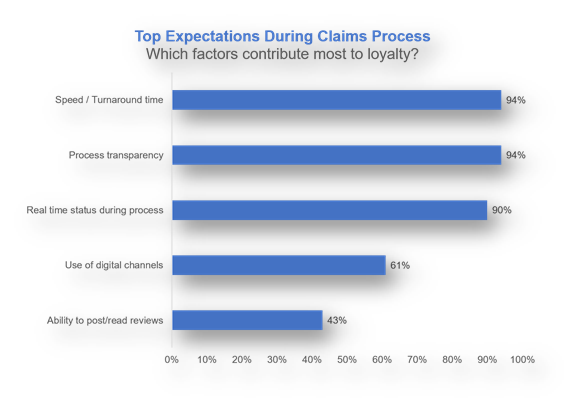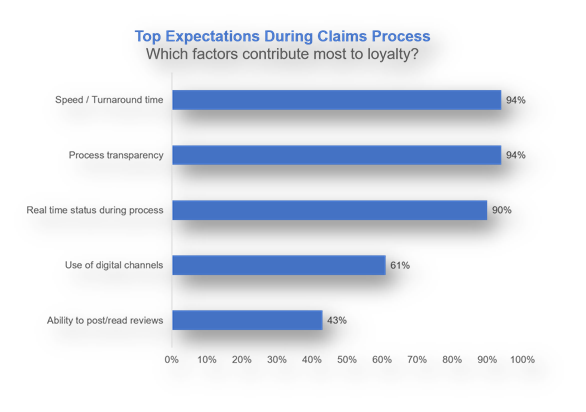 Source: Accenture
Conclusion
Extending and maximizing the customer relationship is key for manufacturers of big-ticket items.  By failing to prioritize these three aspects of the claims process, manufacturers and insurers risk turning off their customers at a time when could instead strengthen their relationships.  Offering troubleshooting upfront, providing a multi-channel experience, and focusing on speed and transparency will go a long way towards improving your customer loyalty and driving higher lifetime value.
Please contact us to discuss how we can help you implement or optimize your own aftermarket program.
After, Inc. (www.afterinc.com) is a pioneer in the warranty business – providing product registration, marketing, analytics, and program administration to warranty organizations across a wide range of industries. Founded in 2005, After has over 15 years of experience delivering innovative warranty offerings to manufacturing clients.  After, Inc. partners with some of the world's top brands to help transform their warranty businesses, driving customer satisfaction post-purchase, higher product reliability, deeper brand equity and additional revenue/profit opportunities. Headquartered in Norwalk, Connecticut, and with offices in New York City, After, Inc. is part of the EPIC Insurance Group, an innovative retail property and casualty and employee benefits insurance brokerage and consulting firm with 2,800 employees across the United States.